Floriani Chrome Sewing Machine Needles by Schmetz.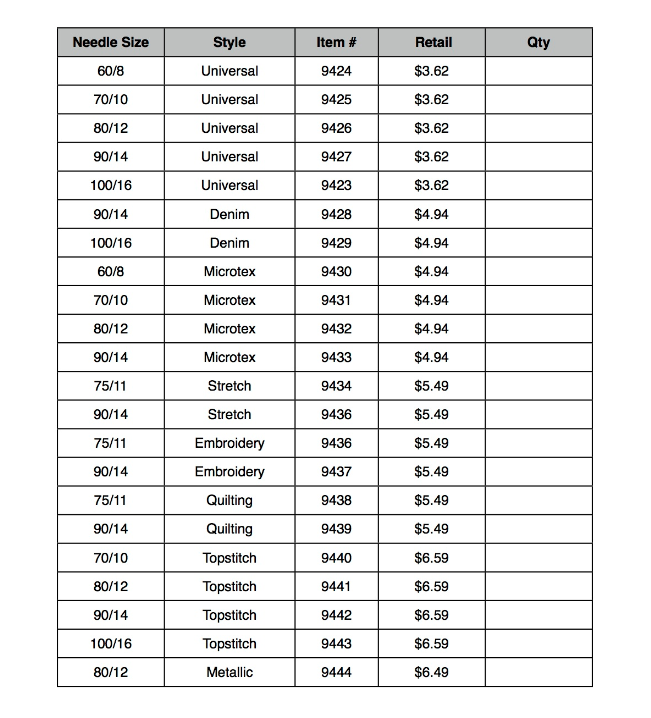 All needle sizes shown above contain five (5) needles per package.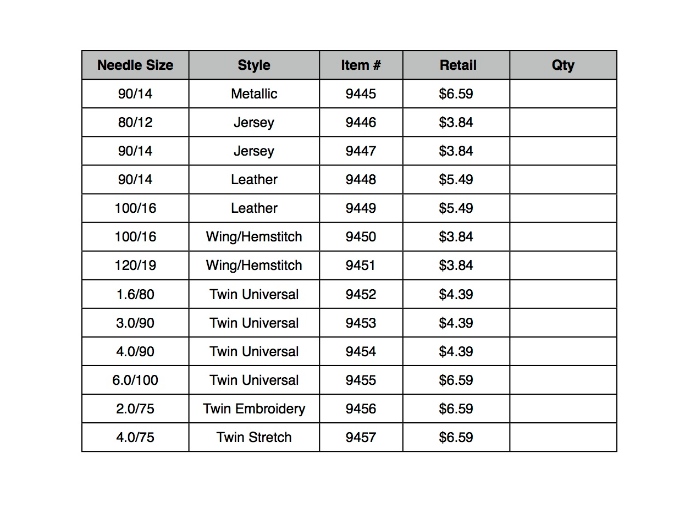 The Metallic, Jersey and Leather needles contain five (5) needles per package. The Wing/Hemstitch & Twin Universal, Embroidery and Stretch Needles contain only one (1) needle per package.
Floriani Chrome needles by Schmetz gives consumers a more durable and better performance needle. These needles offer superior strength that are much longer lasting, and are guaranteed to deliver the perfect stitch for every fabric type, every time.
| | |
| --- | --- |
| | Please contact us via the contact us page with the needle size, item number and quantity you would like to purchase. We will be happy to create an invoice for you. |
Prices subject to change without notice.
Metallic Embroidery Needles
| | |
| --- | --- |
| | Metallic Embroidery Machine Needles - Sewing Machine Needles for Metallic Thread - 80/12 - Package of 5 Designed with an enlarged polished eye to accommodate sensitive specialty threads. The unique elongated eye is essential to preventing shredding and breaking of metallic threads. Try these Floriani Chrome by Schmetz Metallic Needles for stitching designs with metallic thread. I think you will love them! Package contains 5 needles. Size: 80/12 Why Chrome? It is not an easy task to improve the best needles ever made, but Floriani Chrome by Schmetz does offer a class of needles never seen before in the Home Sewing/Quilting/Embroidery Industry. The Commercial Sewing Industry realized the advantages Chrome brought to the performance of commercial equipment many years ago, and Floriani now offers those same advantages to the Home Industry. Floriani Chrome by Schmetz gives consumers a more durable and better performance needle. Floriani Chrome by Schmetz offers needles with superior strength that are much longer lasting, and are guaranteed to deliver the perfect stitch for every fabric type, every time. Only Schmetz could produce a needle worthy of the Floriani Brand, and Floriani is proud to offer the Home Sewing, Quilting and Embroidery Industry the best needles ever made. Floriani Chrome by Schmetz! |
Embroidery Needles
| | |
| --- | --- |
| | Embroidery Sewing Machine Needles - 90/14 - Package of 5 - Floriani Chrome by Schmetz Intended for use with rayon, polyester and other special embroidery threads. The distinct scarf, widened groove and enlarged eye protect fragile threads and guard against excess friction allowing trouble-free embroidery and decorative stitching. The light ball point makes this needle friendly to a large variety of fabrics. Try these Floriani Chrome by Schmetz Embroidery Needles for stitching embroidery designs or decorative stitches. I think you will love the way these sew! Package contains 5 needles. Size: 90/14 Why Chrome? It is not an easy task to improve the best needles ever made, but Floriani Chrome by Schmetz does offer a class of needles never seen before in the Home Sewing/Quilting/Embroidery Industry. The Commercial Sewing Industry realized the advantages Chrome brought to the performance of commercial equipment many years ago, and Floriani now offers those same advantages to the Home Industry. Floriani Chrome by Schmetz gives consumers a more durable and better performance needle. Floriani Chrome by Schmetz offers needles with superior strength that are much longer lasting, and are guaranteed to deliver the perfect stitch for every fabric type, every time. Only Schmetz could produce a needle worthy of the Floriani Brand, and Floriani is proud to offer the Home Sewing, Quilting and Embroidery Industry the best needles ever made. Floriani Chrome by Schmetz! |
Leather Needles
| | |
| --- | --- |
| | Leather Sewing Machine Needles - 90/14 - Package of 5 This needle's unique cutting point lends itself to precise stitching on leather, artificial leather and heavy non-woven synthetics. Not intended for use on knit or woven fabric. Package contains 5 needles. Size: 90/14 Why Chrome? It is not an easy task to improve the best needles ever made, but Floriani Chrome by Schmetz does offer a class of needles never seen before in the Home Sewing/Quilting/Embroidery Industry. The Commercial Sewing Industry realized the advantages Chrome brought to the performance of commercial equipment many years ago, and Floriani now offers those same advantages to the Home Industry. Floriani Chrome by Schmetz gives consumers a more durable and better performance needle. Floriani Chrome by Schmetz offers needles with superior strength that are much longer lasting, and are guaranteed to deliver the perfect stitch for every fabric type, every time. Only Schmetz could produce a needle worthy of the Floriani Brand, and Floriani is proud to offer the Home Sewing, Quilting and Embroidery Industry the best needles ever made. Floriani Chrome by Schmetz! |